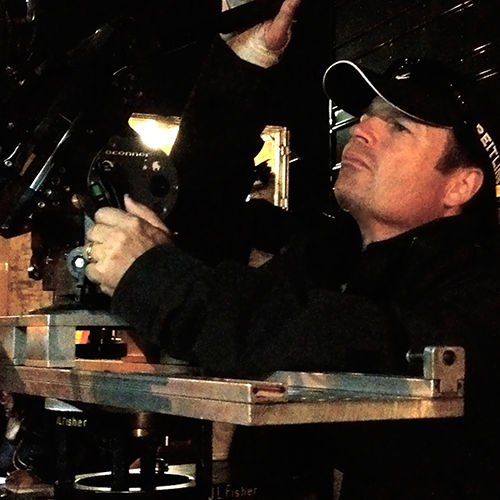 Emmy Award winning, Spirit Award nominated, Academy Award finalist – writer/ director Todd Robinson — Before working with a cadre of major talent alongside the likes of Ridley Scott, Sydney Pollack, Shakar Kapur, Jan DeBont, Michael Bay and others, Robinson was originally trained as a classical actor. Robinson's considerable work in film and television since that time has spanned the worlds of drama, documentary and live action on both the big screen and the small.
A veteran aviator, Robinson's feature films often explore the boundaries of the human condition set against the action of large scale theatrical backdrops as is evidenced by his recent cold war submarine thriller Phantom starring Ed Harris, David Duchovny and William Fichtner, which opened in wide release in 2013.
Known as an actor's director and collaborator, Robinson's next directing project is The Last Full Measure about Medal of Honor Winner AFC William H. Pitsenbarger. This film stars Sebastain Stan, Allison Sudol, Jeremy Irvine, Christopher Plummer, Samuel L. Jackson, William Hurt, Ed Harris, Peter Fonda, John Savage, Amy Madigan, Diane Ladd, Bradly Whitford, Linus Roache, Ser Darius Blain, James Jagger, Cody Walker, Zack Roerig and LisaGay Hamilton. This film will be released in the fall of 2018.
Robinson recently completed work on Lewis and Clark, a historical epic intended to be Pietro Scalia's directing debut. Additionally, he is attached to direct Bloody Jack from the classic novel of the same name. The picture will star Anna Sophia Robb (Soul Surfer, Bridge to Terabithia, The Carrie Diaries).
In 2007 Robinson wrote and directed the feature film noir thriller Lonely Hearts starring John Travolta, James Gandolfini, Salma Hayek, Jared Leto and Laura Dern. The film is currently available everywhere.
For Hollywood Pictures, Robinson wrote and produced White Squall starring Jeff Bridges, working closely with director Ridley Scott. His screenplay won the Worldfest Special Jury Grand Prize for Best Screenplay. He also wrote and produced The Four Diamonds for Disney directed by Peter Werner, and Mermaid helmed by Peter Masterson for Alliance/Atlantis. For Warner Brothers and Wolfgang Peterson, Robinson wrote the para-military action pic That Others May Live and was also a contributing writer on Bad Boys II directed by Michael Bay for Columbia/Tristar.
He penned the script for The Senator's Wife to be directed by Carl Franklin and to star Jennifer Aniston for New Line Cinema. Robinson created and executive produced the series pilot Astronauts for ABC, adapted the Nicholas Sparks New York Times best seller The Rescue for CBS and Denise Di Novi, and wrote and executive produced The Third House for the late Sydney Pollack. In December '09 Robinson completed production on Night and Day with producing partner, Joel Surnow (24) for TNT while also completing writing duties on Skydance Production's Northern Lights and Essential Entertainment's Point Break Indo for Jan DeBont.
Robinson wrote and directed the feature documentary Amargosa about Death Valley artist and recluse, Marta Becket. An ACADEMY AWARD FINALIST for Best Documentary Feature, the film premiered at Slamdance, enjoyed an extended international festival run and was honored with numerous awards including a 2003 EMMY AWARD. In 2001 Robinson executive produced Go Tigers!, a film exploring the famed Massillon, Ohio High School football team of the same name. The film made its World Premiere at the Sundance Film Festival, was nominated for an Independent Spirit Award and was released theatrically by IFC Films.
He wrote and directed The Legend of Billy the Kid for the Disney Channel, for which he won a PRIME TIME EMMY AWARD and wrote and directed Wild Bill: Hollywood Maverick, a feature documentary on legendary studio director, William A. Wellman which garnered numerous awards including Best Documentary Film by the National Board of Review and was featured at Sundance, London, Berlin, San Sebastian and many other festivals. The film can be seen on AMC and was included in Warner Brothers Forbidden Hollywood collection, Volume 3.
Other network series credits include: The Young Riders, Life Goes On, Man of a Thousand Faces, The Outsiders, The Wings Of Denali, a pilot for The WB and Dick Wolf's, Law & Order: Special Victims Unit. Robinson also directed the documentary series: Stand And Be Counted for TLC with producing partner singer/songwriter David Crosby. The program traces the history and impact of social activism through popular music.
His documentary on music songstress Amy Cook, The Spaces In Between, airs often on The Documentary Channel. Other projects in development include Quest for Scion, for Paramount and Skydance Productions and Blood Money for RCR Media from his own novel.
Robinson received a Summa Cum Laude BFA in drama from the Theatre Conservatory at Adelphi University and is one of the founding members and on the board of directors of The Jonathan Larson Performing Arts Foundation, named for his college roommate, the late Jonathan Larson. Robinson currently sits on the board of Save A Warrior, a foundation providing direct services for veteran suicide prevention. When work permits Robinson teaches film production and thesis writing at the University of Southern California's prestigious School of Cinematic Arts.